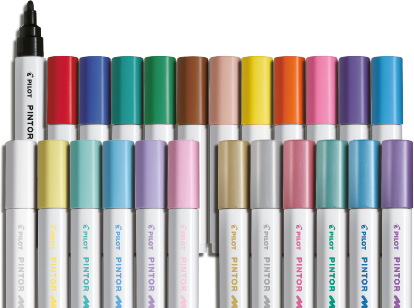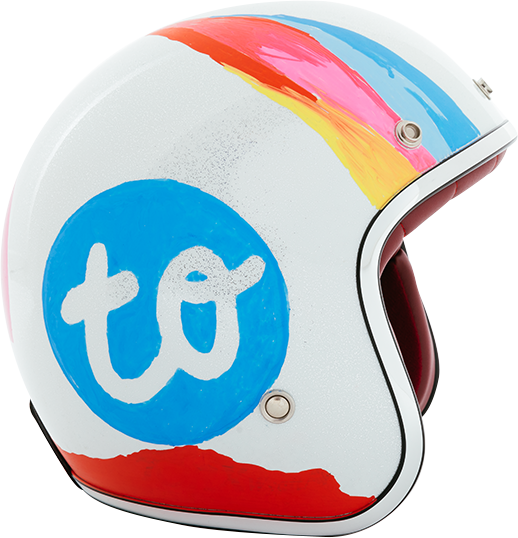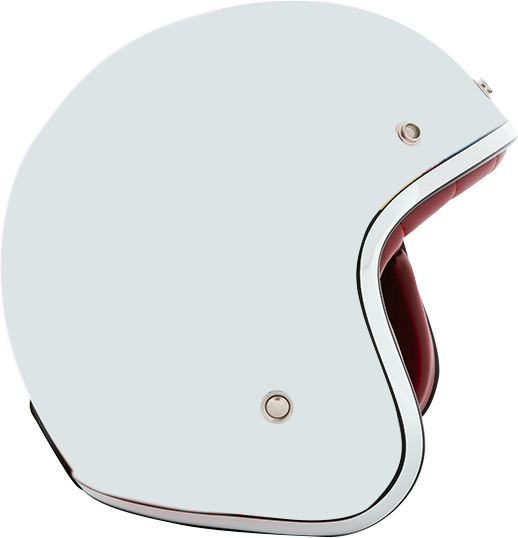 Ultra-resistant and opaque ink
Ultra-resistant and opaque ink
Pigment-rich and water-based Pilot Pintor ink covers any surface, even the darkest. Perfect for drawing, colouring, decorating, marking, writing, calligraphy… Unleash your imagination! Pilot Pintor expresses your creative talent intensely. Results are the colour of your inspiration.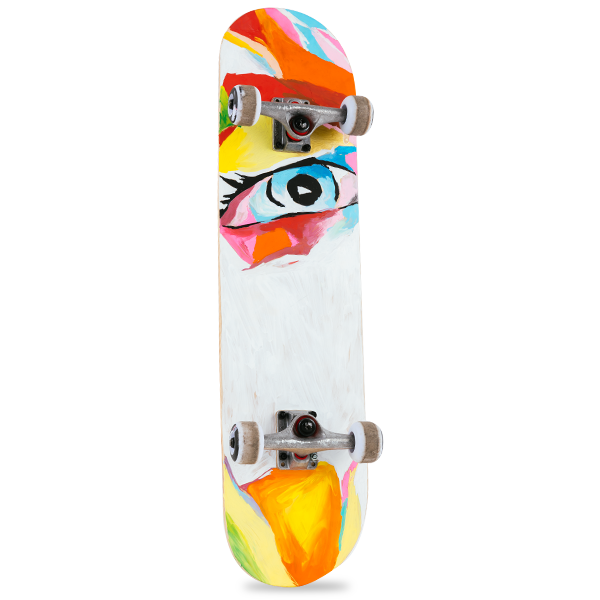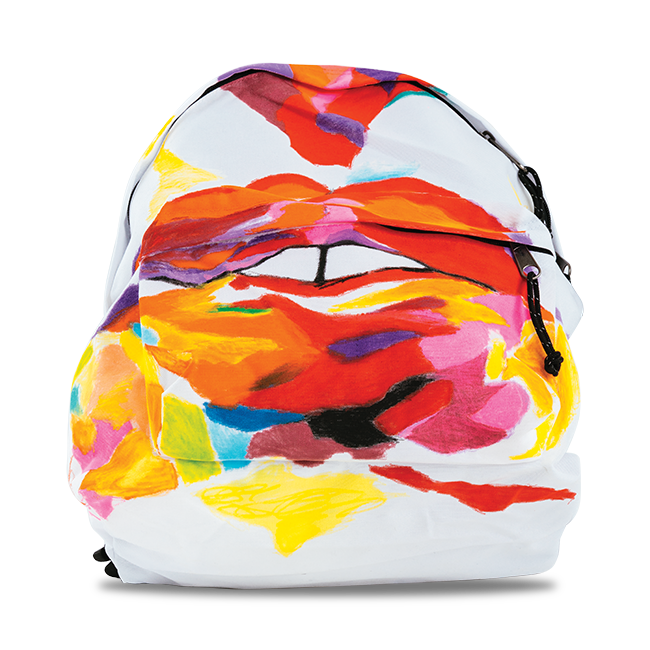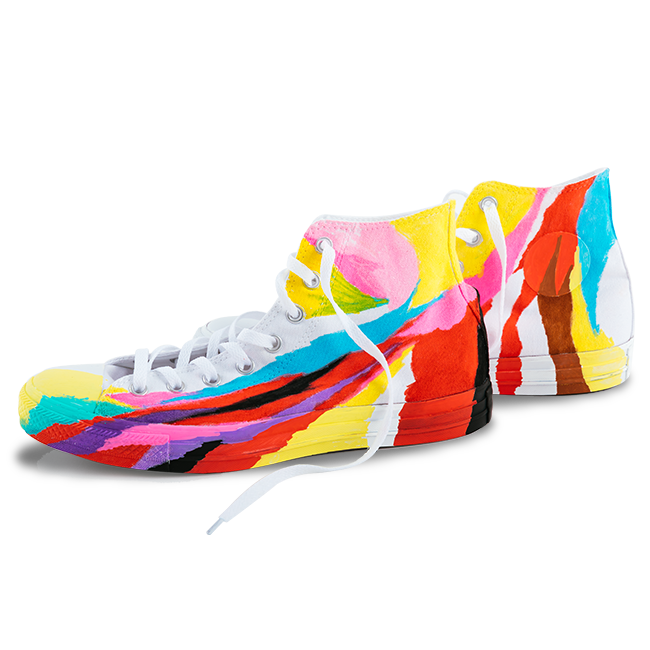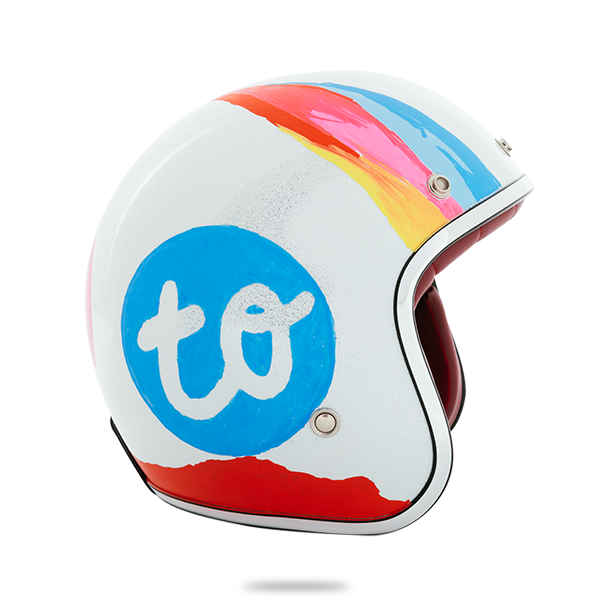 Multi-surface
A perfect hold on any material
Paper, wood, glass, ceramic, plastic, metal, fabric… Pilot Pintor decorates all materials, even porous and dark surfaces. Want to relook clothing, personalise an object, customise furniture or decorate dishes? Pilot Pintor brings all your ideas to all materials.
24 colours
24 bright colours
Available in 12 fun tones – 6 pastel and 6 metallic –  and four tip widths: Extra fine (0.7 mm), Fine (1.0 mm), Medium (1.4 mm) and Broad (8.0 mm). Pilot Pintor is ready for all your decoration, customisation, personalisation, relooking and scrapbooking needs, and more. Do not hesitate to combine the colours for infinite shades. Pilot Pintor puts colour everywhere you want it!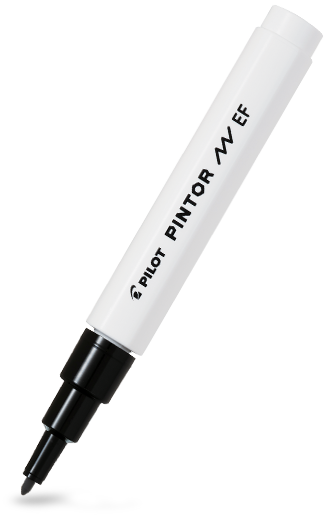 Extra fine tip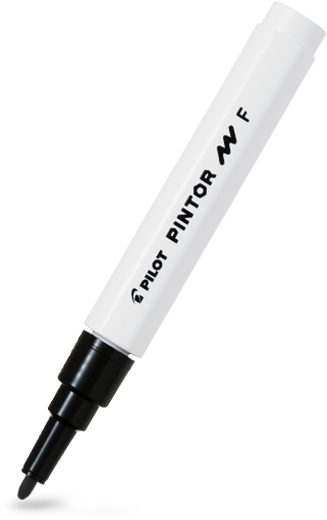 Fine tip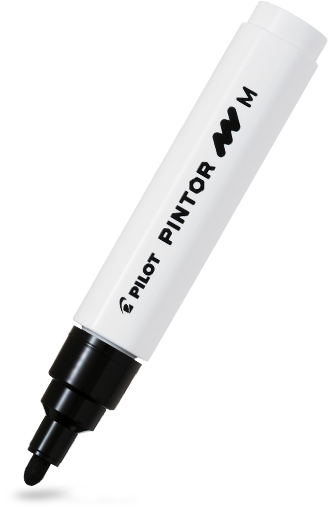 Medium tip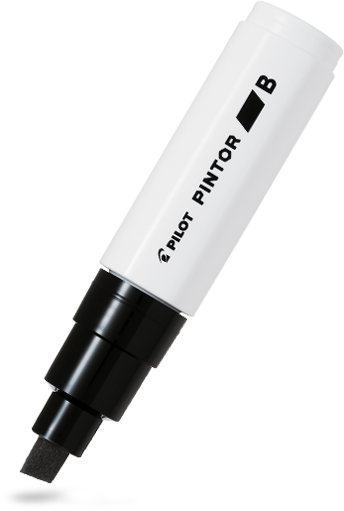 Broad tip
Pintor DIY sets & wallets
Ready to start customising different surfaces and objects in an easy way?
Bring colours to your decoration at home or at work thanks to the Pintor's wallets and DIY sets!
To help you to use your DIY set(s) dowload the PDF tutorial.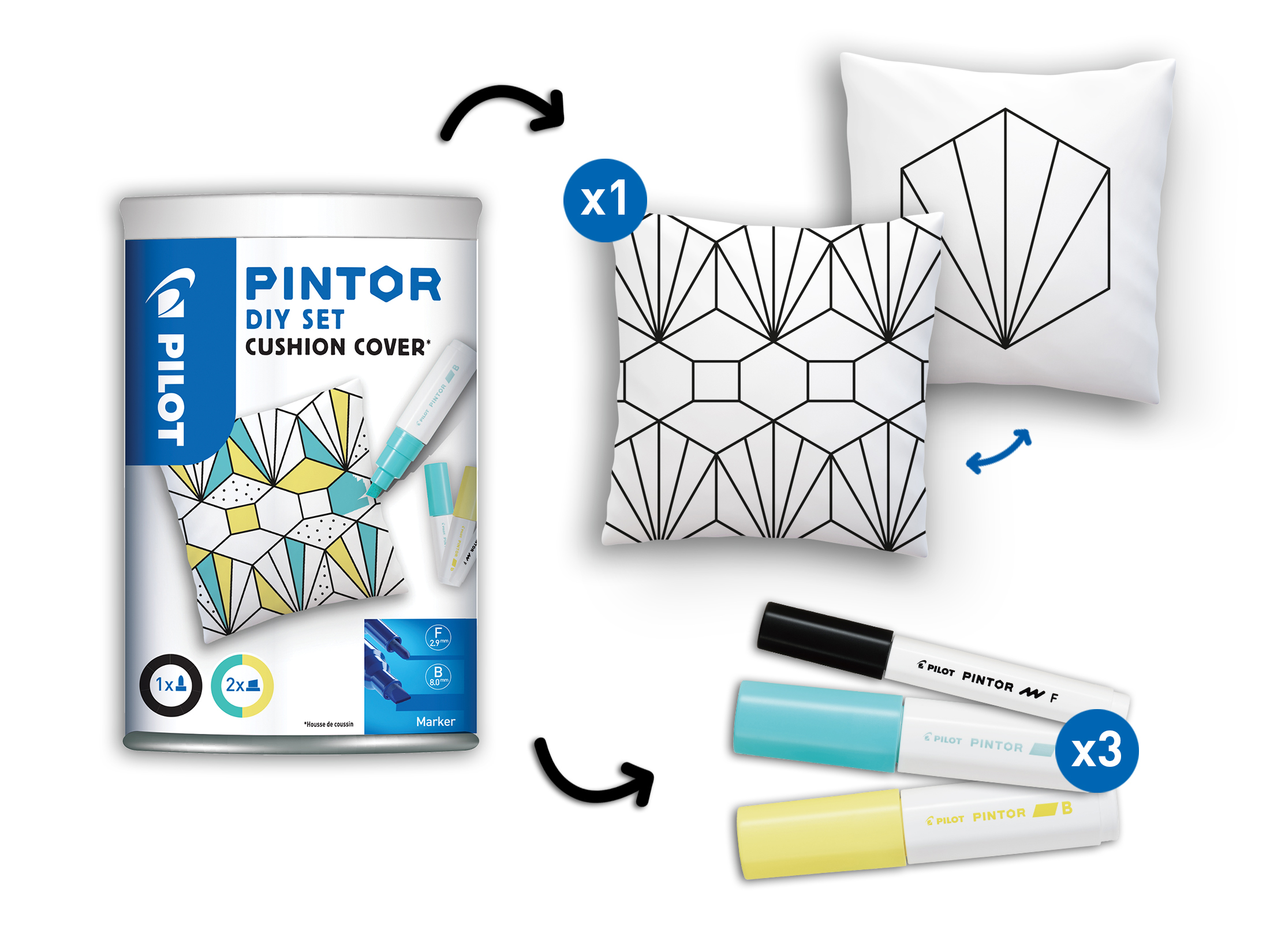 Set DIY Cushion Cover
Assorted colours – Fine / Broad Tip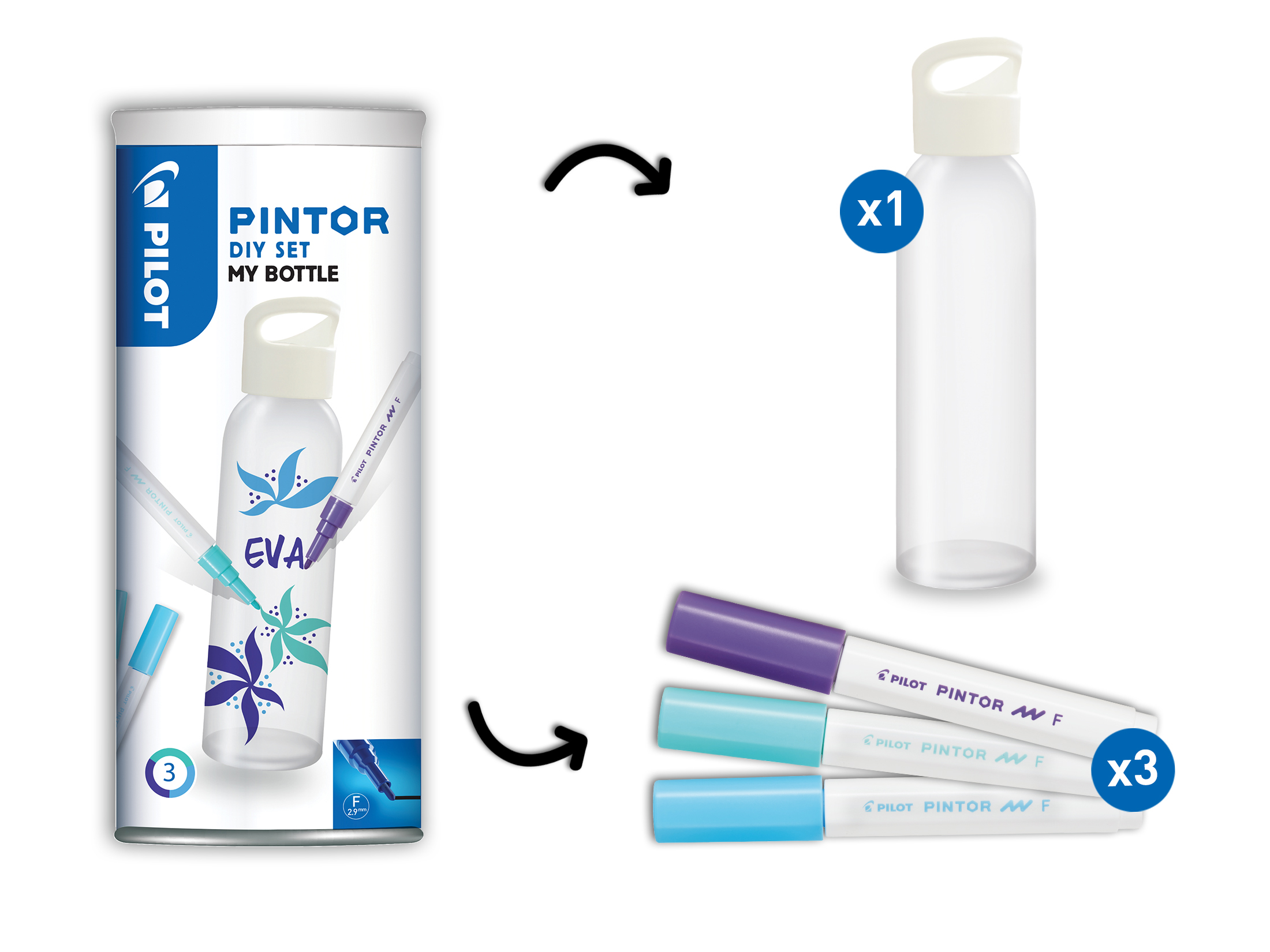 Set DIY My Bottle
Assorted colours – Fine Tip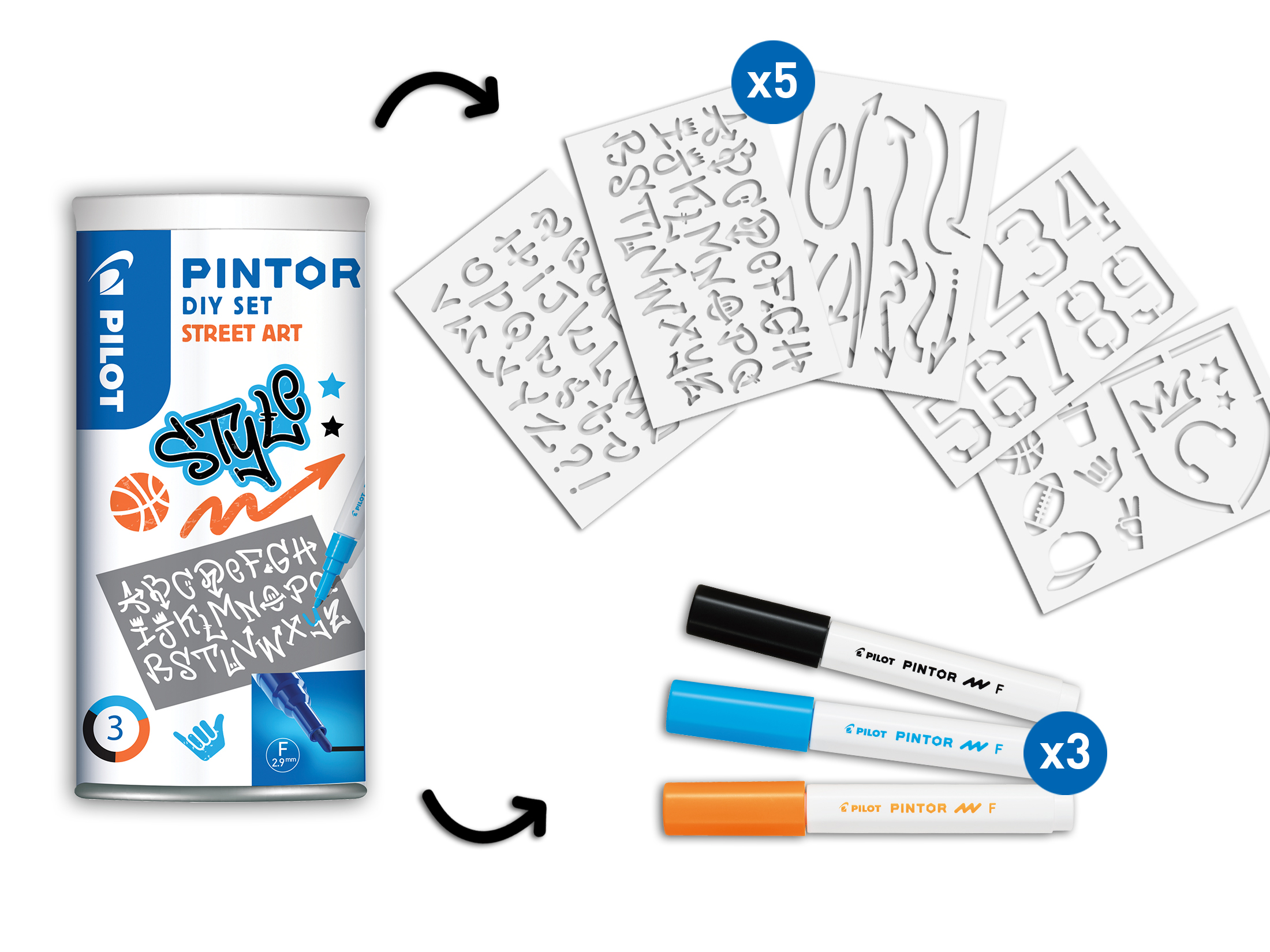 Set DIY Stencils
Assorted colours – Fine Tip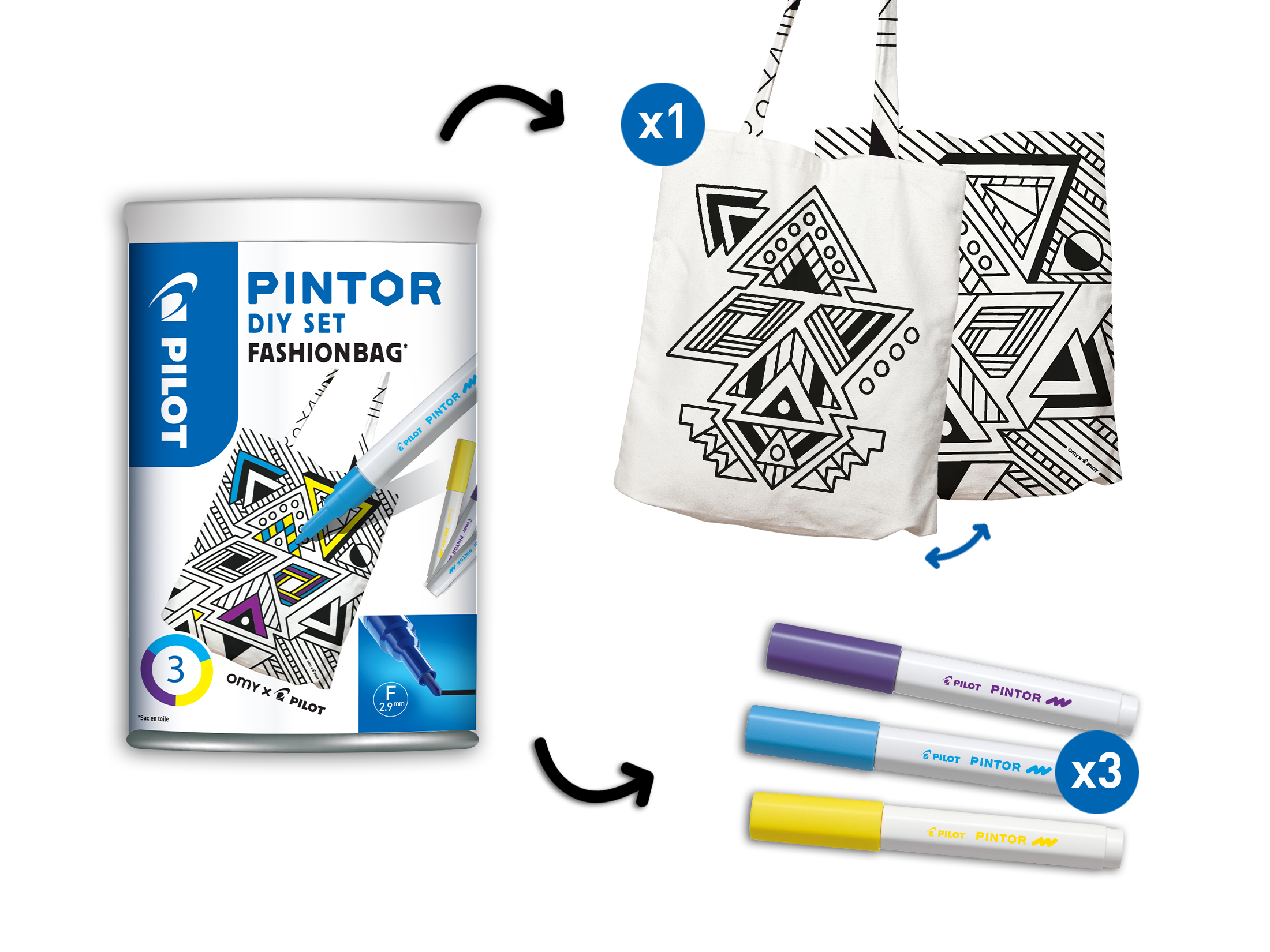 Set DIY Bag
Assorted colours – Fine Tip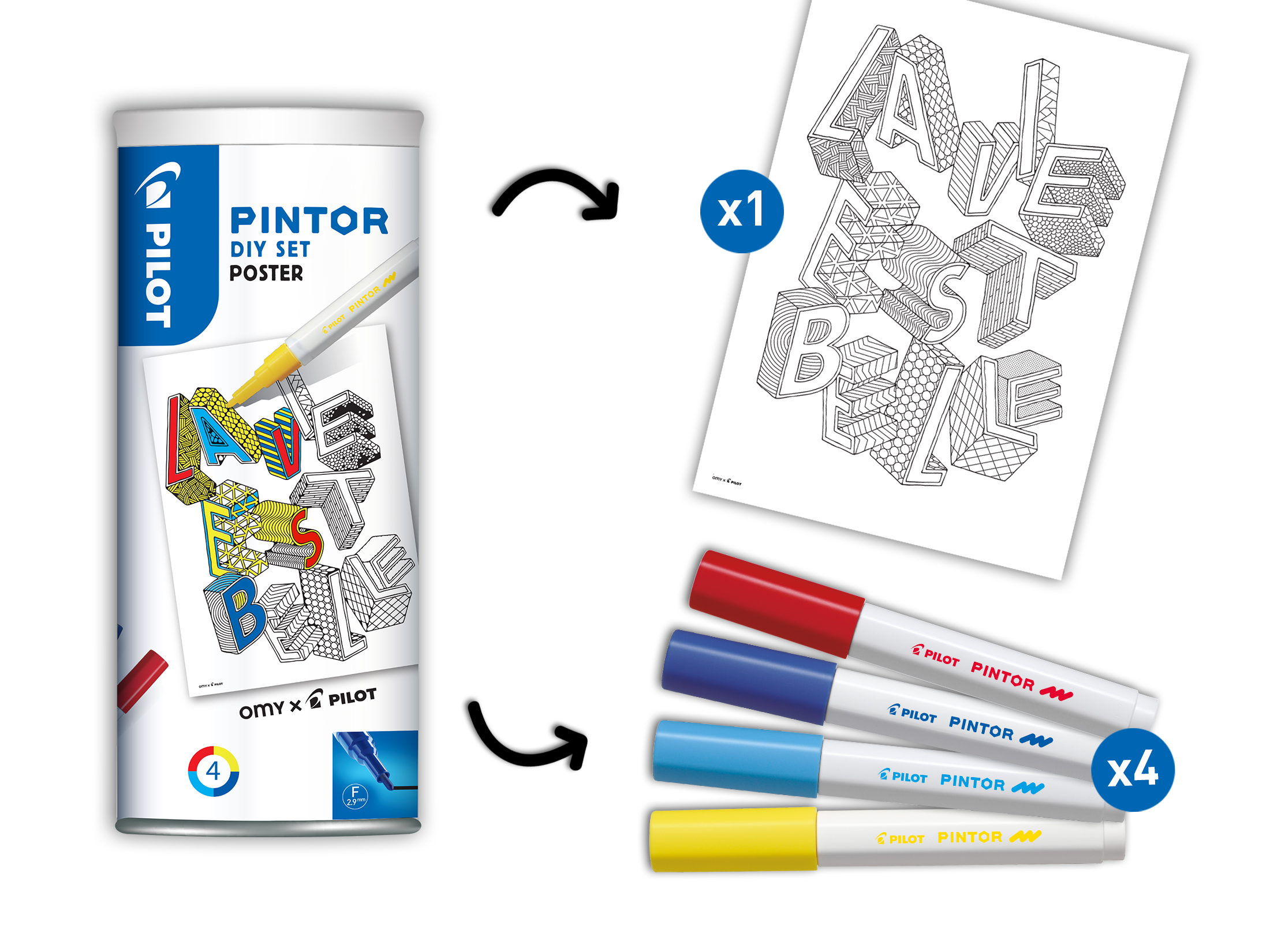 Set DIY Poster
Assorted colours – Fine Tip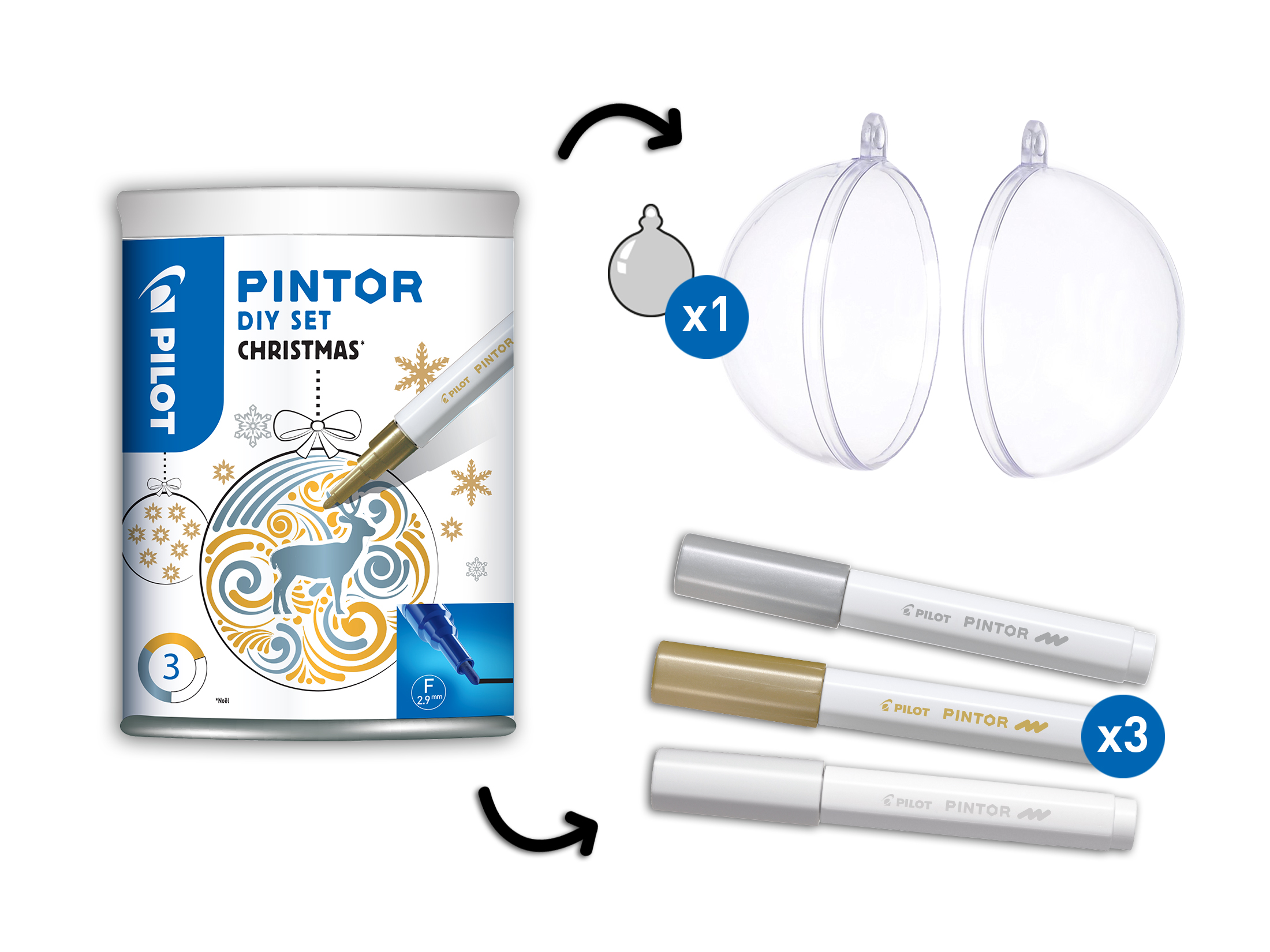 Set DIY Christmas
Assorted colours – Fine Tip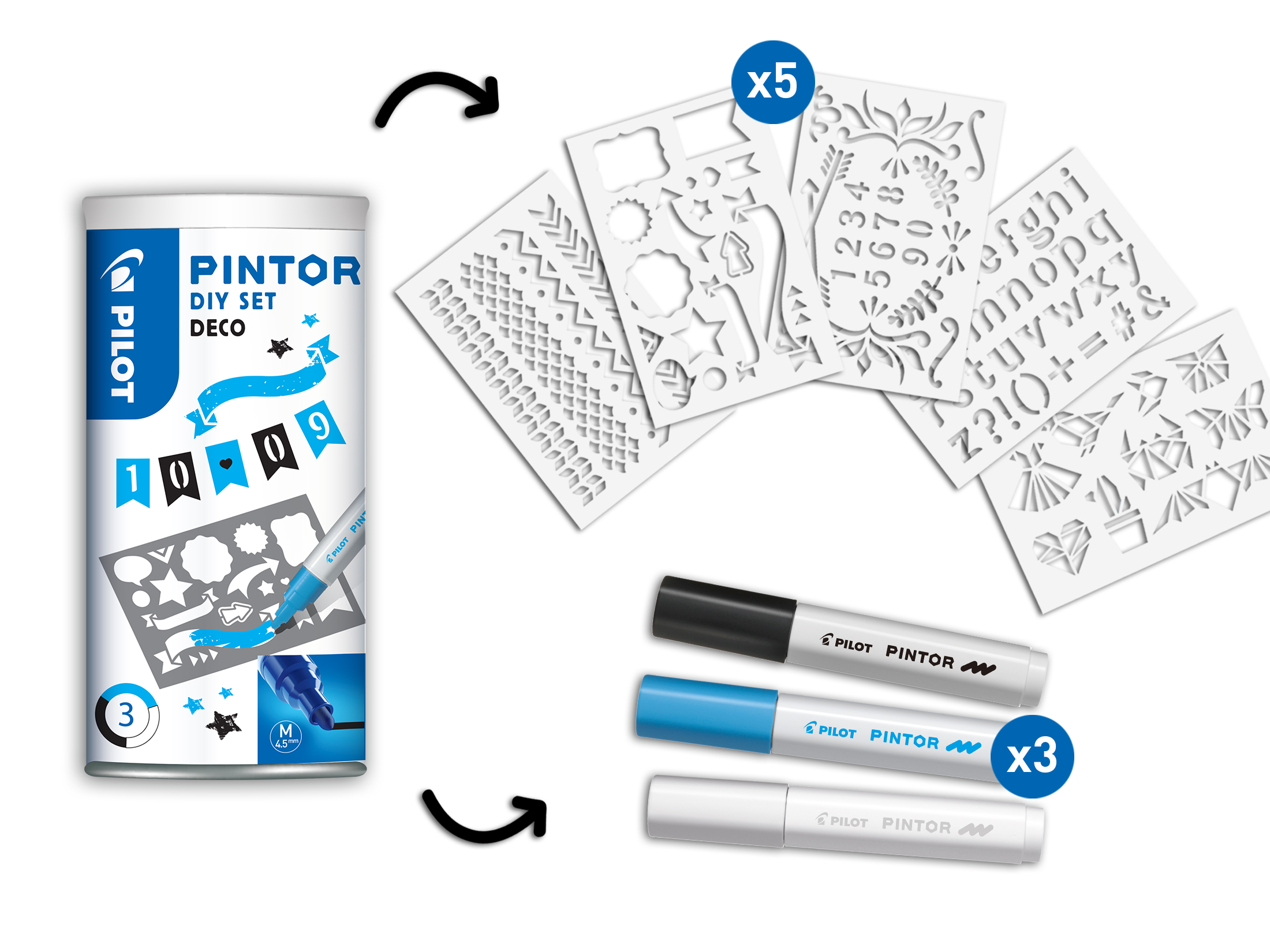 Set DIY Deco
Assorted colours – Medium Tip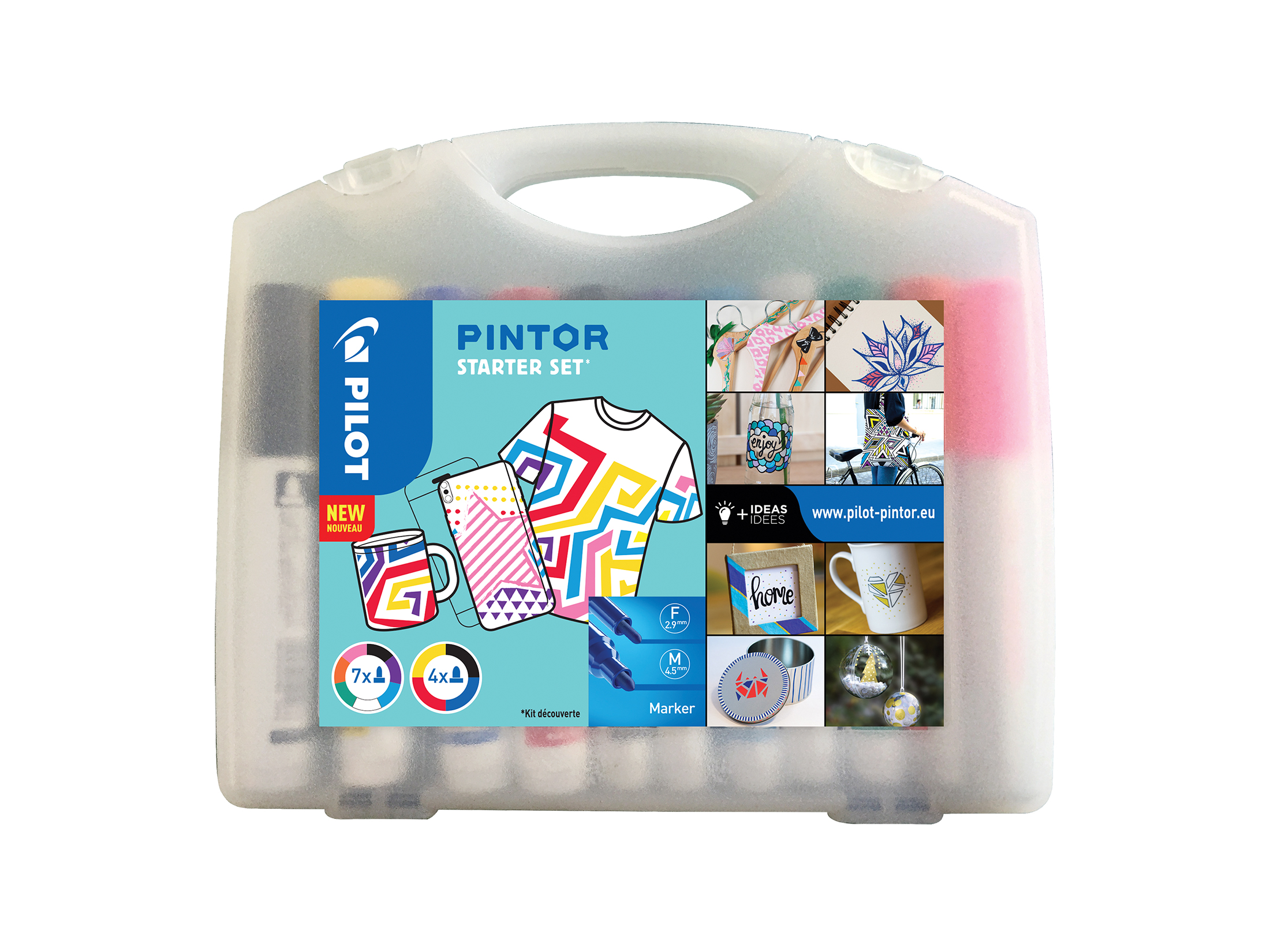 Starter Set
Assorted colours – Fine / Medium Tip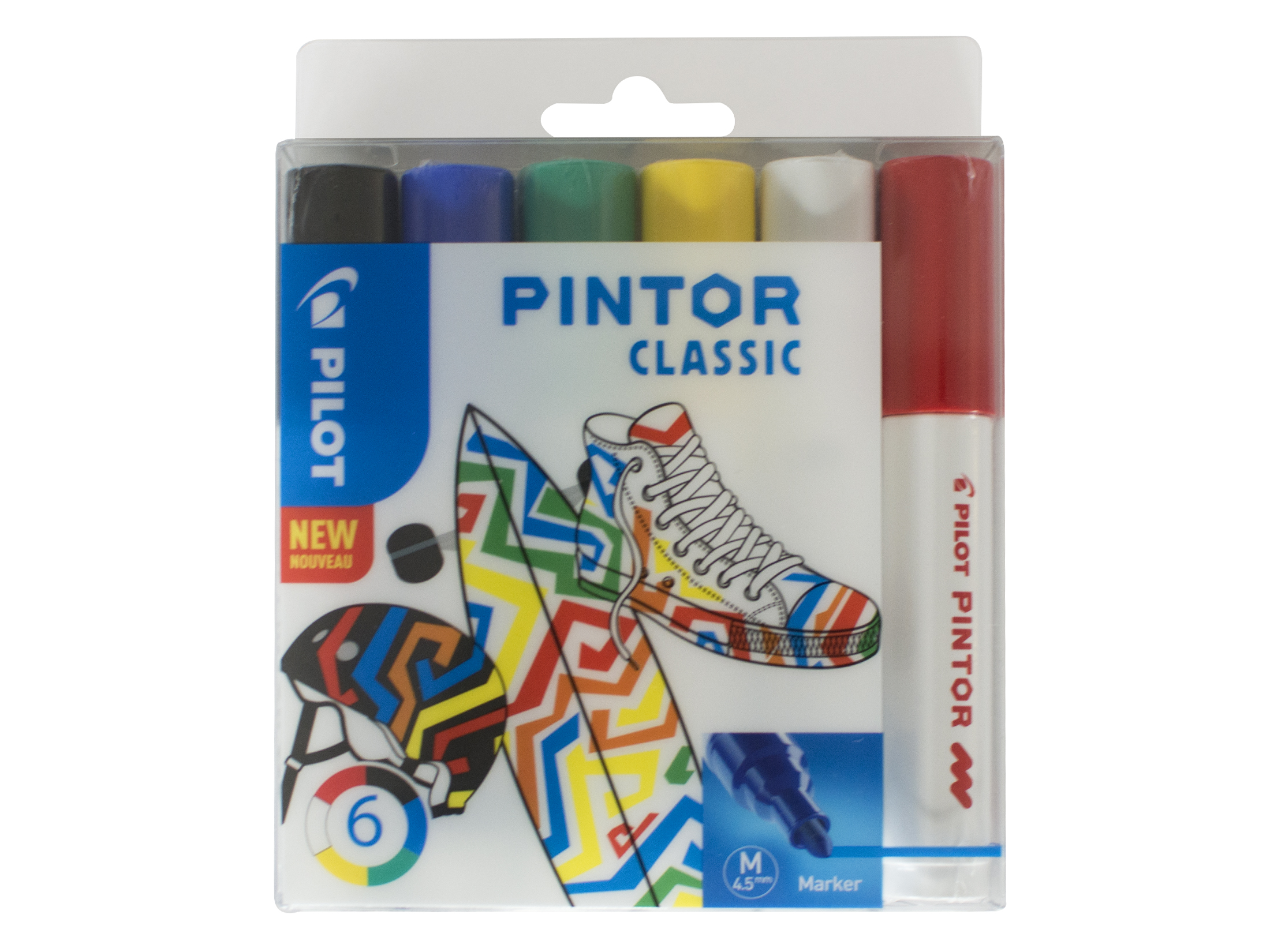 Wallet of 6
Classic colours – Medium Tip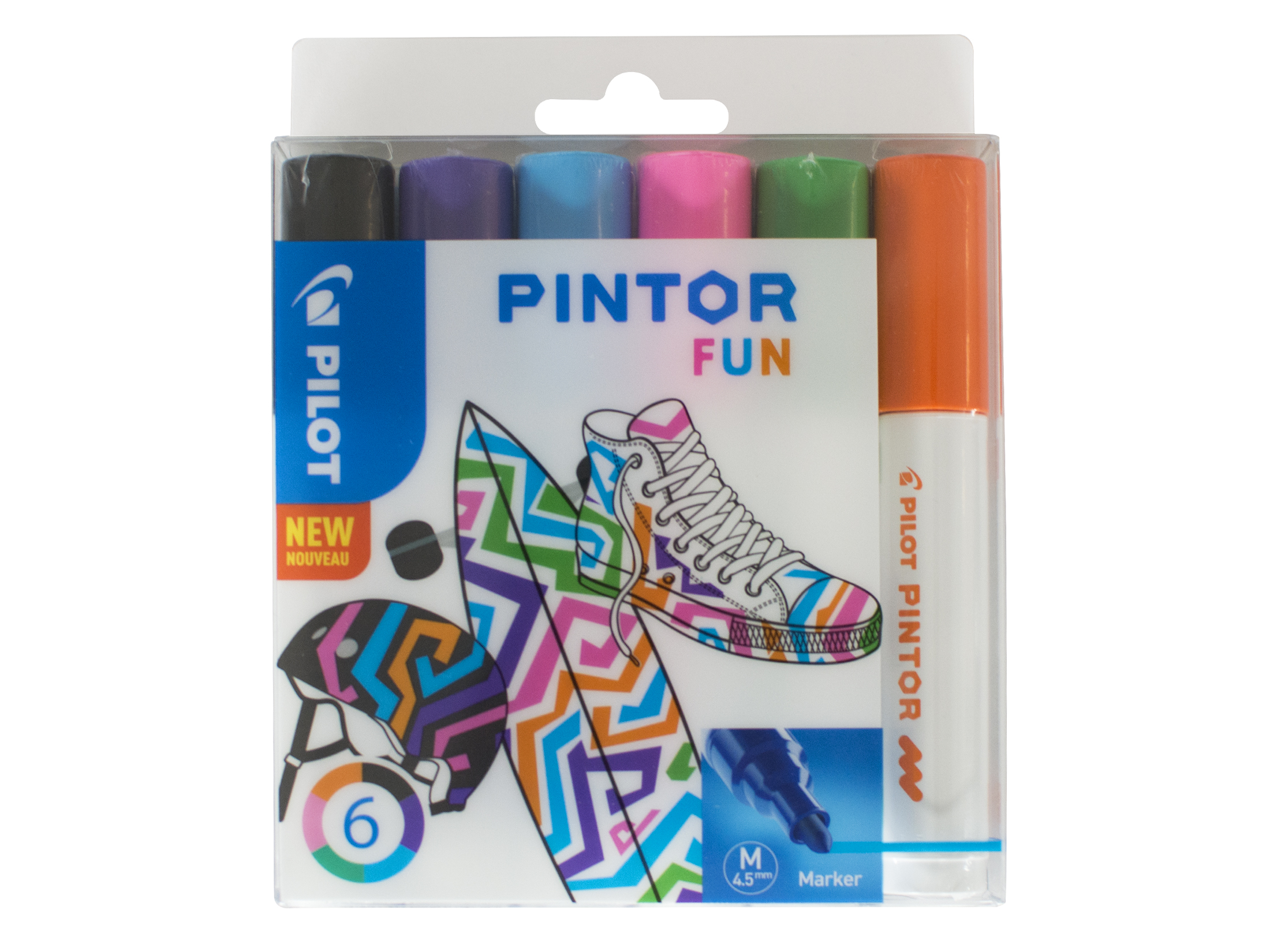 Wallet of 6
Creative colours – Medium Tip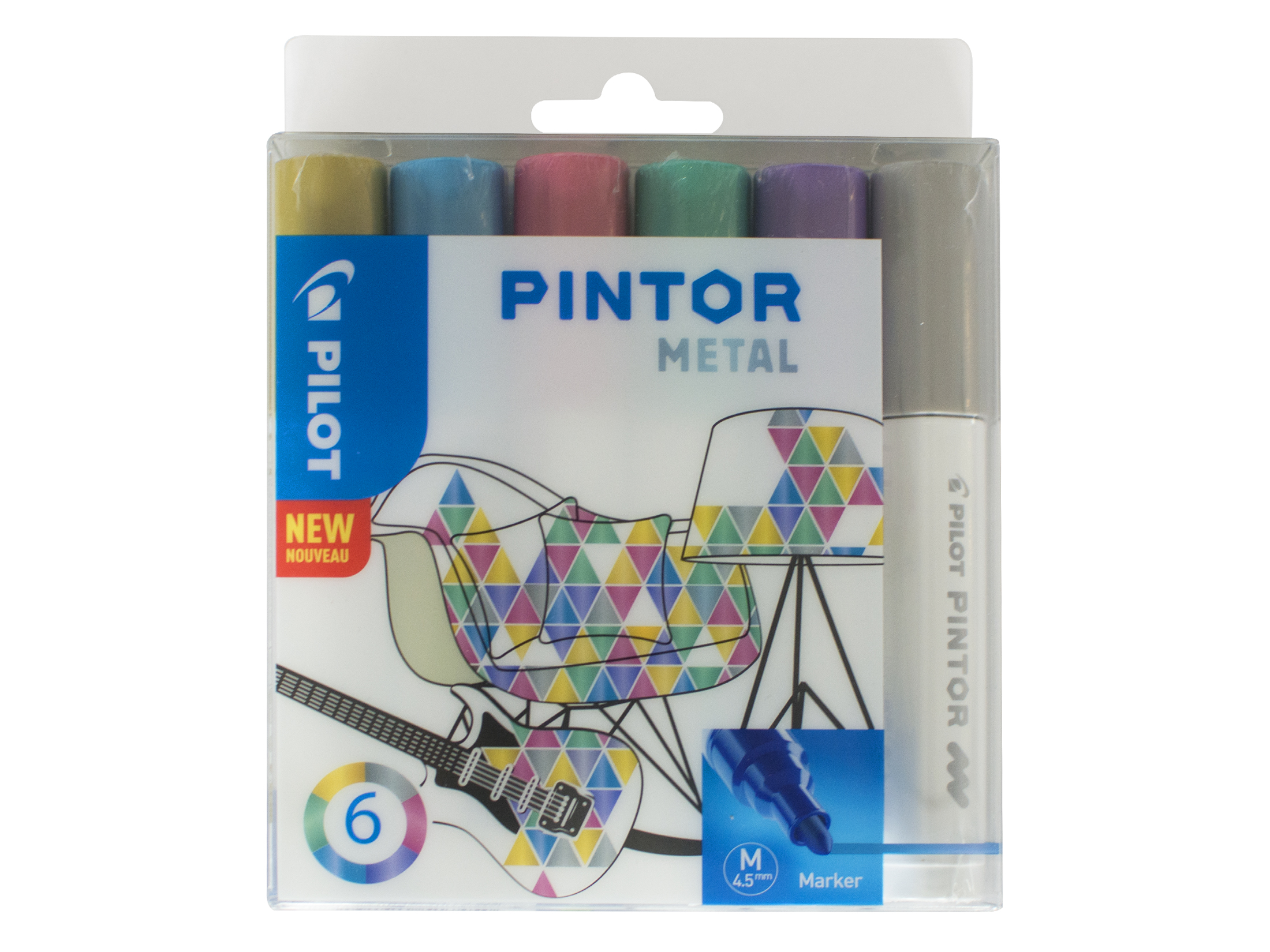 Wallet of 6
Metallic colours – Medium Tip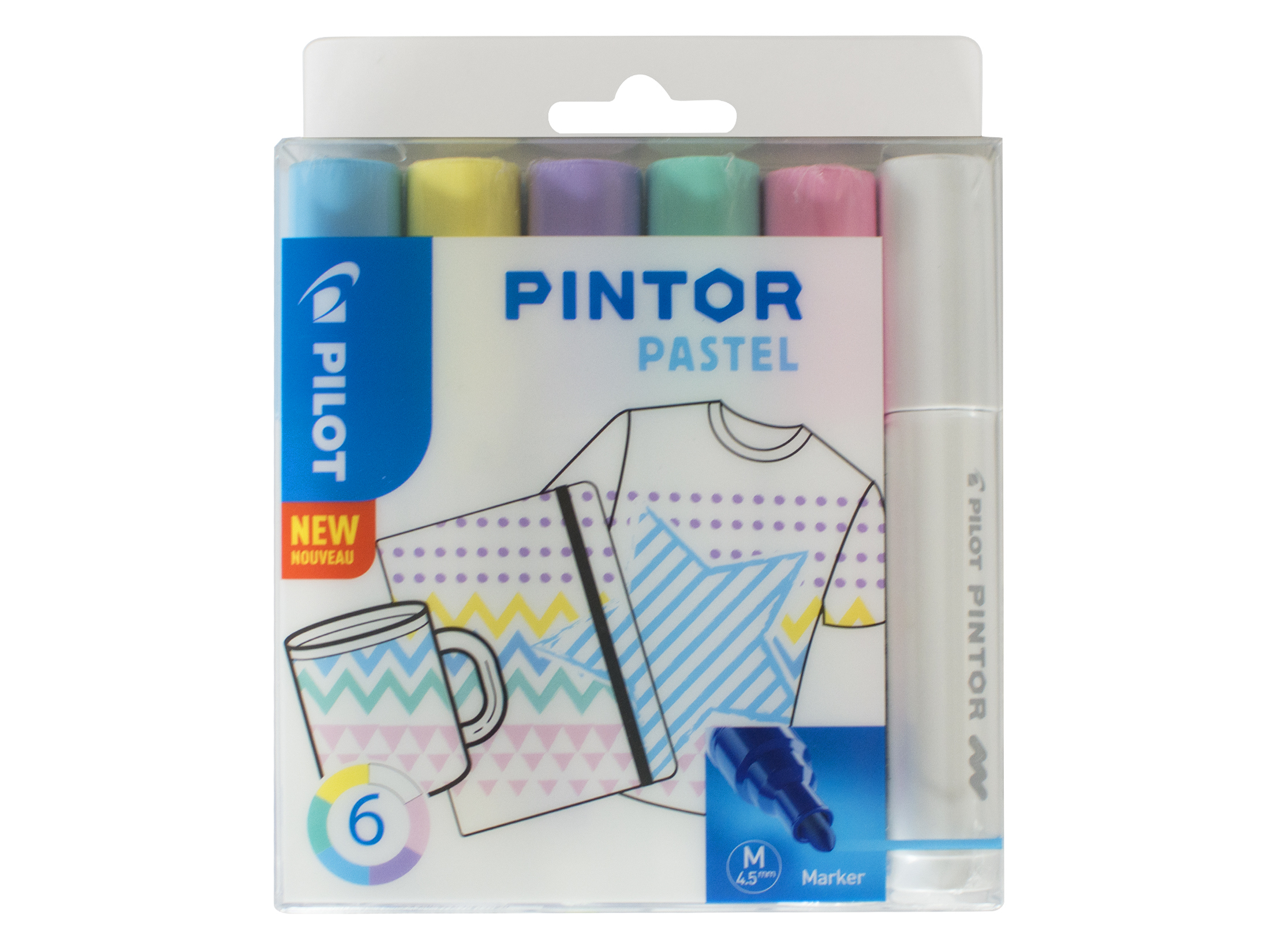 Wallet of 6
Pastel colours – Medium Tip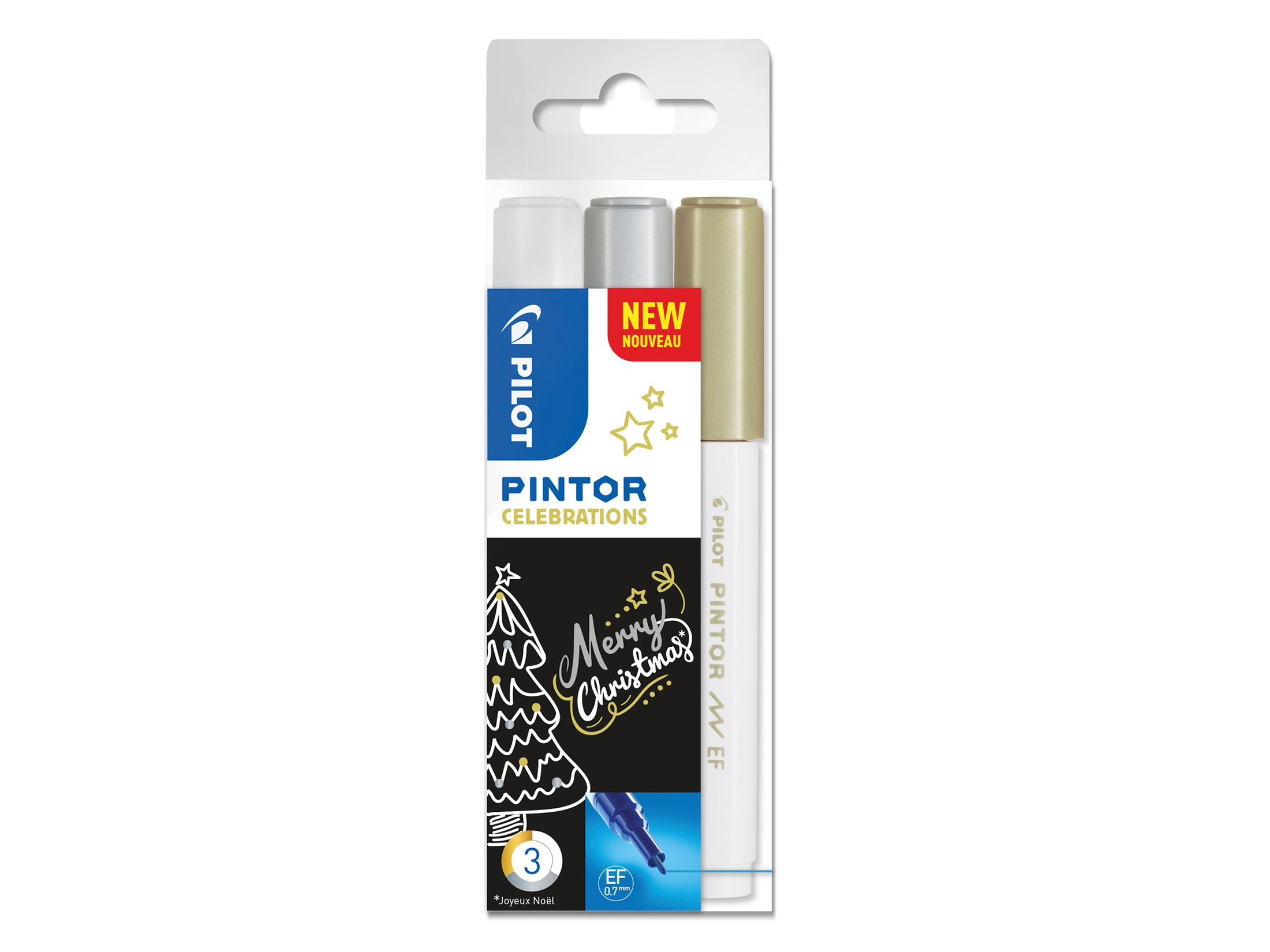 Wallet of 3
Celebrations – White, Gold, Silver – Extra Fine Tip
Collaborations & Creations
Inspired artists customize objects to make them unique: guitar, longboard, table top, leather purse, rain boots and umbrella, helmet, denim vest, chair …
There is no limit to express creative talent!
Do you have a Pintor set with a transparent Xmas bauble or stencils ?
Discover our videos full of inspired ideas to enable you to realize your own creations: FAQ
3. Discover the frequently asked questions below.
Before use, shake your Pintor marker about 20 times, hearing the ball move in the barrel. Prime the tip by pressing 3-4 times on a piece of scrap paper, until the ink starts to flow.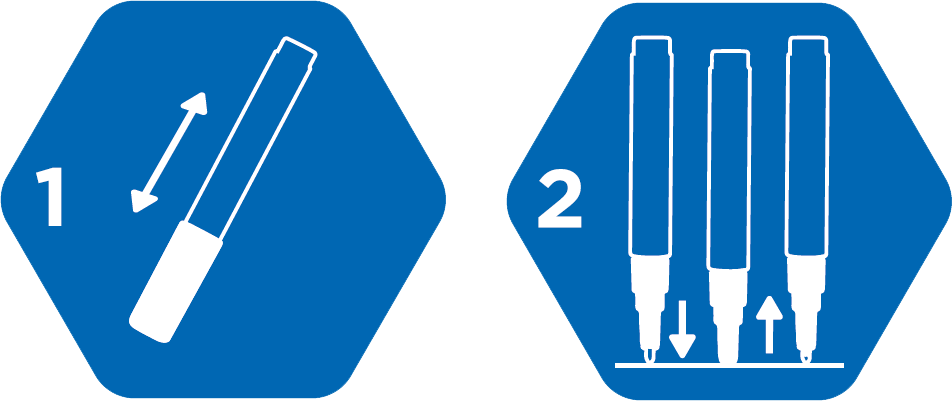 Store horizontally or with the tip pointing up.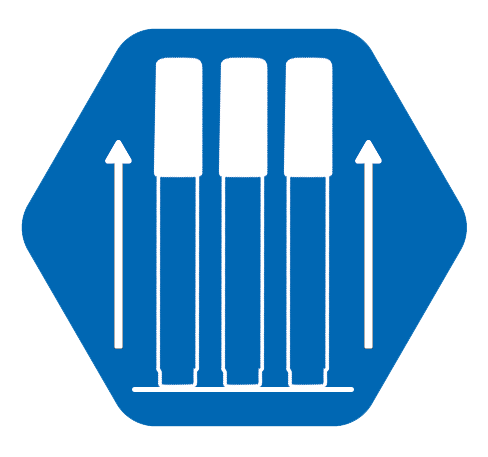 Pilot Pintor Marker can be used on:
Wood, Melanine wood
Glass and frosted glass
Plastic
Metal-Steel, Aluminum and epoxy coated
Paper
Carton
Polystyrene
Porcelain
Fabric : 100% cotton/linen; polyster/satin; popeline
Leather
Mineral (like stones)
Blackboard
For more details about material compatibility download the Pintor leaflet. Note that the compatibility, line precision and covering power is different according to the material. The tips to fix paint for best results & water resistance can be also specific according to the material. In order to get more information, please refer to the instructions leaflet to download.
Pilot Pintor markers are not refillable.